SupplyChain-201: Getting Actionable Supply Chain Data and Engaging Suppliers
Elective
Screen Shots from the SupplyChain-201 Online Course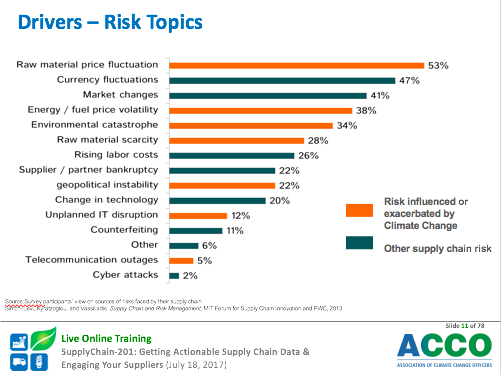 This courses addresses two key questions:
how to get meaningful and actionable data about and from suppliers; and

how to move beyond the supplier inquiry to a more collaborative and mutually beneficial discussion.
The instructors will provide attendees with best practices and strategies for determining who is using data and how it will be used, what data is useful, and how to avoid redundancy while getting data. The bootcamp will provide an overview of strategies for implementation in a procurement decisions and an understanding of how data will be used in procurement decisions. Through case studies, participants will be exposed to leading practices and gain insights as to when/how to affect change in the supply chain. The course will also touch on the integration of data into existing systems and on how to prepare teams for supply chain changes.
Learning Objectives
Getting meaningful and actionable data from, and about, their suppliers
Moving beyond the supplier inquiry to a more collaborative and mutually-beneficial discussion
Determining best practices for data collection and usage
Understanding how data can be integrated into the procurement processes
Avoiding redundancy by leveraging existing tools
Identifying new tools that could be used
Determining communications strategies
Affecting change within the supply chain
Course Architects
Cashion East –

Technical Specialist, PRé Sustainability

Jed Ela – Senior Advisor, Sustainable Supply Chains, U.S. General Services Administration
Sarah Lewis – Managing Director of Research and Integration, Sustainability Consortium
Anastasia O'Rourke – Special Consultant, Industrial Economics, Incorporated
Jim Sullivan – Vice President, Sustainability, SAP
Pierre-Francois Thaler – Co-Founder & Co-President, EcoVadis